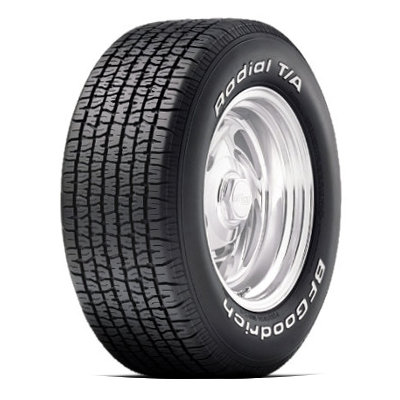 Show More Rides [+]
The BF Goodrich Radial T/A has almost forty years of racing heritage. It is the first radial performance tire in North America. The Goodrich Radial T/A has excellent steering and lateral stability. This tire handles well in wet and dry conditions.
Tire Reviews [+]
If you would like to submit a review please do so
Here
Brad's Review
Performance :
10/10
Appearance :
10/10
Noise :
10/10
Comfort :
10/10
Price :
Great Deal
Recommend :
Yes
Comments :
Great tire for heavy rain and just to be looking good. Long lasting.
Fredd's Review
Performance :
6/10
Appearance :
8/10
Noise :
7/10
Comfort :
6/10
Price :
Good Deal
Recommend :
Yes
Comments :
Good Muscle Car Tire
Click Tire Sizes
to Compare Prices
BFGoodrich Radial T/A Tire Specs Chart