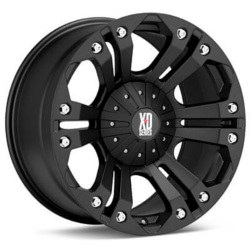 Show More Rides [+]
The KMC-XD Series Monster wheel is designed with one piece cast construction and comes in a couple of finishes including Matte Black. It is a durable wheel design that can endure off road racing. KMC-XD Series Monster wheels have a sharp looking six split-spoke design and would be a great enhancement to your vehicle.
Wheel Reviews [+]
If you would like to submit a review please do so
Here
FordF350's Review
Design :
10/10
Quality :
5/10
Appearance :
10/10
Ease of Clean :
/10
Price :
Great Deal
Recommend :
No
Comments :
If you do any heavy towing these aren't the ones to have, they tend to crack.
KMC-XD Series MONSTER (Matte Black) Wheel Specs Chart