60,000 Mile
Tread Warranty
50,000 Mile
Tread Warranty
(LT Sizes)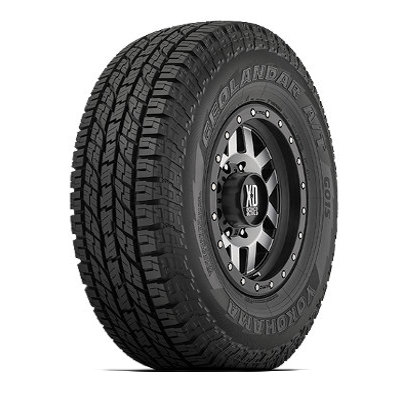 Geolandar A/T G015
All Terrain
The Yokohama Geolandar A/T G015 provides a balance of positive tire characteristics. EdgeTec grooves let you feel free to hit the trail as expels dirt an mud off road. Triple 3D sipes change as the tire wears to maintain confident all-season traction, and excellent tread life. Enduro compound helps the Geolandar A/T G015 rubber remain pliable in cold temperatures for better handling in wet and snowy conditions. It also has a 60,000 mile tread life warranty for P-Metric and Metric sizes or 50,000 mile for LT Sizes.
Tire Reviews [+]
If you would like to submit a review please do so
Here
Ryanok123's Review
Performance :
1/10
Appearance :
1/10
Noise :
1/10
Comfort :
1/10
Price :
Great Deal
Recommend :
Yes
Comments :
As a guy who loves to go to Moab . I have been running the new k02 on my 2015 4Runner . I traded and actually ran the ko2 in 275/70/18 lt for about a week then I got curious about the new geolanders traded for them in the same size, the geolanders are actually a lil bigger not enough to matter . Not sure how well they will do in Moab .there more of a street tire but they are pretty aggressive for what they are look real sporty on the new truck ! I am a big ko2 fan but after about 6k miles being rotated very oil change the started giving me a lil vibration on the Toyota I probably wouldn't have felt it in a big truck but I figured better safe than sorry also the new geolanders have a lower rolling resistance truck is more responsive !
Click Tire Sizes
to Compare Prices
Yokohama Geolandar A/T G015 Tire Specs Chart