50,000 Mile
Tread Warranty
NO
Tread Warranty
(LT Sizes)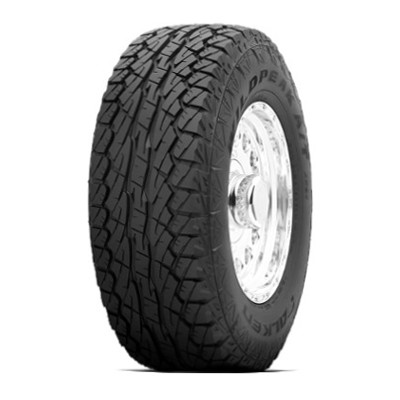 Show More Rides [+]
The Falken Wild Peak A/T is an all-terrain, all-purpose performance tire intended for use on SUVs and light trucks for both on and off-road driving. Their 5-rib pattern offers enhanced durability and excellent on-road control and handling capability. Wild Peak A/T tires provide superior snow and mud traction and reduced road noise. It also has a 50,000 mile tread life warranty for P-Metric and Metric sizes (Excludes LT Sizes).
Tire Reviews [+]
If you would like to submit a review please do so
Here
TrdJason's Review
Performance :
10/10
Appearance :
10/10
Noise :
3/10
Comfort :
10/10
Price :
Great Deal
Recommend :
Yes
Comments :
I got this tire beacuse it was cheap but I did not expect it to be as good as the competition. Turns out that with this tire, my truck has given me a better ride comfort that stock with the same noise level as stock tires with all the great looks. I would definitely recommend this tire to anyone who is looking to save money and be happy in the long run. Great tire for the price and very happy with it.
Click Tire Sizes
to Compare Prices
Falken Wild Peak A/T Tire Specs Chart
Size
Diameter
Width
Rim
Range
Measured
Rim
Tread
Depth
Load
Range
Max
Load
Max
psi
Weight
Revs/Mile

LT

33X12.50R15
108S C BSW
32.6"
12.8"
8.5-11"
9.5"
18/32"
C
2205 lbs
35 psi
54 lbs
637
Show Specs


LT

35X12.50R15
113S C BSW
34.5"
12.9"
8.5-11"
9.5"
18/32"
C
2535 lbs
35 psi
72 lbs
603
Show Specs


LT

245/70R16
110Q D BSW
29.6"
9.65"
6-7"
6.5"
16/32"
D
2335 lbs
65 psi
47 lbs
702
Show Specs


255/65R16
109S SL BSW
29.1"
10"
7-9"
8"
13/32"
SL
2271 lbs
44 psi
38 lbs
714
Show Specs


LT

305/70R16
124S E BSW
32.7"
12.4"
8-9.5"
9"
18/32"
E
3525 lbs
65 psi
60 lbs
638
Show Specs


LT

315/75R16
121S D BSW
34.4"
12.4"
8-11"
10"
16/32"
D
3195 lbs
50 psi
77 lbs
604
Show Specs


LT

325/80R16
124S D BSW
36.3"
12.8"
8.5-11"
10"
17/32"
D
3525 lbs
50 psi
80 lbs
572
Show Specs


235/65R17
108S XL BSW
29"
9.3"
6.5-8.5"
7.5"
12/32"
XL
2205 lbs
50 psi
34 lbs
716
Show Specs


235/70R17
108S XL BSW
30"
9.5"
6-8"
7"
12/32"
XL
2205 lbs
50 psi
36 lbs
693
Show Specs


LT

295/70R17
121S E BSW
33.1"
11.61"
7.5-10"
8.5"
16/32"
E
3195 lbs
80 psi
74 lbs
628
Show Specs


LT

305/65R17
121S E BSW
32.6"
12.01"
8.5-11"
9.5"
17/32"
E
3195 lbs
65 psi
64 lbs
637
Show Specs


LT

315/70R17
121Q D BSW
34.3"
12.4"
8-11"
9.5"
17/32"
D
3195 lbs
50 psi
78 lbs
606
Show Specs


LT

325/70R17
121S D BSW
34.8"
12.8"
8.5-11"
9.5"
17/32"
D
3195 lbs
50 psi
82 lbs
597
Show Specs


LT

33X12.50R17
114S D BSW
32.5"
12.5"
8.5-11"
10"
17/32"
D
2600 lbs
50 psi
63 lbs
640
Show Specs


LT

35X12.50R17
119S D BSW
34.5"
12.5"
8.5-11"
10"
18/32"
D
3000 lbs
50 psi
74 lbs
603
Show Specs


LT

37X12.50R17
124S D BSW
36.6"
13"
8.5-11"
10"
18/32"
D
3525 lbs
50 psi
81 lbs
568
Show Specs


285/60R18
120H XL BSW
31.5"
11.4"
8-10"
9"
11/32"
XL
3086 lbs
50 psi
45 lbs
660
Show Specs


LT

305/65R18
124S E BSW
33.4"
12.3"
8.5-11"
10"
16/32"
E
3525 lbs
65 psi
72 lbs
622
Show Specs


LT

325/60R18
124S E BSW
33.2"
12.8"
9-12"
10"
17/32"
E
3525 lbs
65 psi
77 lbs
626
Show Specs


LT

325/65R18
127S E BSW
34.4"
13"
9-12"
10"
16/32"
E
3860 lbs
65 psi
80 lbs
604
Show Specs


LT

35X12.50R18
118Q D BSW
34.4"
12.5"
8.5-11"
10"
17/32"
D
2910 lbs
50 psi
77 lbs
604
Show Specs


LT

37X13.50R18
124S D BSW
36.5"
14.4"
8.5-11"
10"
18/32"
D
3525 lbs
50 psi
87 lbs
569
Show Specs


275/65R20
126S E BSW
34"
10.8"
7.5-9.5"
8.5"
17/32"
E
3750 lbs
80 psi
66 lbs
611
Show Specs


285/50R20
116T XL BSW
31.3"
11.3"
8-10"
9"
13/32"
XL
2756 lbs
50 psi
46 lbs
664
Show Specs


LT

305/55R20
121S E BSW
33.1"
12.3"
8.5-11"
10"
16/32"
E
3195 lbs
65 psi
68 lbs
628
Show Specs


LT

355/60R20
125S D BSW
36.6"
14.2"
10-12"
11"
17/32"
D
3640 lbs
50 psi
93 lbs
568
Show Specs


LT

325/50R22
122S E BSW
34.7"
13"
9-12"
11"
17/32"
E
3305 lbs
65 psi
79 lbs
599
Show Specs


LT

37X13.50R22
122S E BSW
36.6"
13.9"
8.5-11"
10"
16/32"
E
3415 lbs
65 psi
88 lbs
568
Show Specs


LT

37X13.50R24
120S D BSW
36.6"
13.5"
9.5-12"
11"
17/32"
D
3085 lbs
65 psi
89 lbs
568
Show Specs