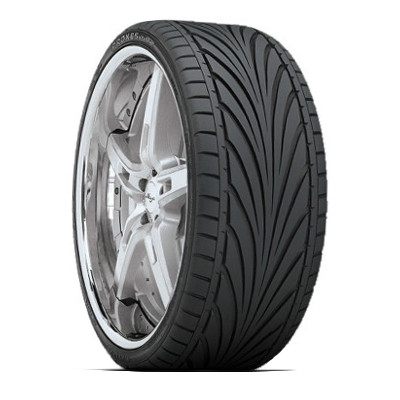 The Toyo Proxes T1R is a summer ultra high performance, Z-speed rated tire made for high performance sedans and sports cars and coupes. It has great traction capability for excellent handling and offers the driver a smooth, quiet ride. Though the Proxes T1R performs well on dry and wet surfaces, it is not designed to be used in icy or snowy weather conditions.
Tire Reviews [+]
KAlvarado91's Review
Performance :
10/10
Appearance :
10/10
Noise :
10/10
Comfort :
10/10
Price :
Great Deal
Recommend :
Yes
Comments :
Have them on my Fianc's Integra and it's a totally different world no rear sliding or over steer like most tires do I love these tires on both cars car ran better times at track an on steet runs amazing tire in spring summer and fall winter hasnt come yet but we don't take the cars out in snow. I rate 10/10 for street strip and autoX.
Click Tire Sizes
to Compare Prices
Toyo Proxes T1R Tire Specs Chart
Size
Diameter
Width
Rim
Range
Measured
Rim
Tread
Depth
Load
Range
Max
Load
Max
psi
Weight
Revs/Mile

185/55R15
82V SL BSW
23"
7.6"
5-6.5"
6"
10.6/32"
SL
1047 lbs
44 psi
16 lbs
903
Show Specs


195/45R15
78V SL BSW
22"
7.7"
6-7.5"
6.5"
10.3/32"
SL
937 lbs
44 psi
16 lbs
946
Show Specs


195/50R15
82V SL BSW
22.7"
7.7"
5.5-7"
6"
10/32"
SL
1047 lbs
44 psi
16 lbs
915
Show Specs


185/50R16
81V SL BSW
23.28"
7.28"
5-6.5"
6"
11/32"
SL
1019 lbs
44 psi
NA
893
Show Specs


195/55R16
91V XL BSW
24.3"
7.9"
5.5-7"
6"
10.6/32"
XL
1356 lbs
50 psi
18 lbs
854
Show Specs


225/50ZR16
92W SL BSW
24.7"
9.2"
6-8"
7"
10.6/32"
SL
1389 lbs
44 psi
21 lbs
840
Show Specs


245/45ZR16
94W SL BSW
24.6"
9.6"
7.5-9"
8"
10.3/32"
SL
1477 lbs
44 psi
22 lbs
844
Show Specs


215/50R17
91V SL BSW
25.46"
8.46"
6-7.5"
7"
11/32"
SL
1356 lbs
44 psi
NA
817
Show Specs


215/45ZR18
93W XL BSW
25.7"
8.1"
7-8"
7"
10/32"
XL
1433 lbs
50 psi
NA
809
Show Specs


225/45R18
95W XL BSW
25.9"
8.7"
7-8.5"
7.5"
10/32"
XL
1521 lbs
50 psi
NA
803
Show Specs


235/50ZR18
101W XL BSW
27.1"
9.6"
6.5-8.5"
7.5"
11/32"
XL
1819 lbs
50 psi
NA
767
Show Specs


245/45R18
100W XL BSW
26.6"
9.5"
7.5-9"
8"
11/32"
XL
1764 lbs
50 psi
NA
782
Show Specs


225/35ZR19
88W XL BSW
25.2"
9.1"
7.5-9"
8"
10/32"
XL
1235 lbs
50 psi
NA
825
Show Specs


225/40R19
93Y XL BSW
26.1"
9"
7.5-9"
8"
10/32"
XL
1433 lbs
50 psi
NA
796
Show Specs


235/35ZR19
91Y XL BSW
25.5"
9.5"
8-9.5"
8.5"
10.3/32"
XL
1356 lbs
50 psi
22 lbs
814
Show Specs


255/35ZR19
96Y XL BSW
26"
10.1"
8.5-10"
9"
10/32"
XL
1565 lbs
50 psi
25 lbs
798
Show Specs


265/35ZR19
98Y XL BSW
26.3"
10.43"
9-10.5"
9.5"
10/32"
XL
1653 lbs
50 psi
NA
790
Show Specs


275/30R19
96Y XL BSW
25.6"
10.6"
9-10"
9.5"
10.3/32"
XL
1565 lbs
50 psi
26 lbs
812
Show Specs


315/25ZR19
98Y XL BSW
25.2"
12.8"
11-12"
11.5"
10/32"
XL
1653 lbs
50 psi
29 lbs
824
Show Specs


245/30ZR20
90Y XL BSW
25.9"
9.5"
8-9"
8.5"
10.3/32"
XL
1323 lbs
50 psi
24 lbs
801
Show Specs


245/40R20
99Y XL BSW
27.7"
9.6"
8-9.5"
8.5"
10/32"
XL
1709 lbs
50 psi
24 lbs
750
Show Specs


255/30ZR20
92Y XL BSW
26.1"
10"
8.5-9.5"
9"
10.3/32"
XL
1389 lbs
50 psi
25 lbs
796
Show Specs


255/35ZR20
97Y XL BSW
27"
10.2"
8.5-10"
9"
10/32"
XL
1609 lbs
50 psi
27 lbs
769
Show Specs


275/30ZR20
97Y XL BSW
26.6"
10.6"
9-10"
9.5"
10/32"
XL
1609 lbs
50 psi
26 lbs
782
Show Specs


285/25ZR20
93Y XL BSW
25.6"
11.6"
10.5"
10.5"
10.3/32"
XL
1433 lbs
50 psi
31 lbs
812
Show Specs


305/25ZR20
97Y XL BSW
26"
12.2"
10.5-11.5"
11"
10.3/32"
XL
1609 lbs
50 psi
29 lbs
799
Show Specs


305/30ZR20
103Y XL BSW
27.2"
12.3"
10.5-11.5"
11"
10.3/32"
XL
1929 lbs
50 psi
34 lbs
763
Show Specs


315/25ZR20
99Y XL BSW
26.3"
12.6"
11-12"
11.5"
10/32"
XL
1709 lbs
50 psi
33 lbs
789
Show Specs


345/25ZR20
104Y XL BSW
26.8"
13.6"
12-13"
12.5"
10.3/32"
XL
1984 lbs
50 psi
35 lbs
776
Show Specs


255/30ZR21
93Y XL BSW
27.1"
10.2"
8.5-9.5"
9"
10.3/32"
XL
1433 lbs
50 psi
26 lbs
767
Show Specs


285/30ZR21
100Y XL BSW
27.8"
11.2"
9.5-10.5"
10"
10.3/32"
XL
1764 lbs
50 psi
30 lbs
747
Show Specs


295/25ZR21
96Y XL BSW
27"
11.7"
10-11"
10.5"
10.3/32"
XL
1565 lbs
50 psi
30 lbs
770
Show Specs


265/30ZR22
97Y XL BSW
28.4"
10.5"
9-10"
9.5"
10/32"
XL
1609 lbs
50 psi
30 lbs
732
Show Specs


295/25ZR22
97Y XL BSW
27.9"
11.5"
10-11"
10.5"
10/32"
XL
1609 lbs
50 psi
32 lbs
745
Show Specs

More Summer Tires ⇨