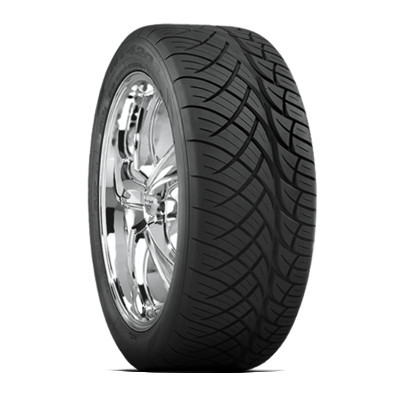 NT420S
Truck/SUV All Season
Show More Rides [+]
The Nitto NT420S is an all season tire intended for use on SUVs and trucks. It is a radial tire that provides excellent handling and traction in all weather environments including light snow. The NT420S offers assured performance and a comfortable ride.
Tire Reviews [+]
If you would like to submit a review please do so
Here
BigBlueMonster's Review
Performance :
8/10
Appearance :
10/10
Noise :
6/10
Comfort :
8/10
Price :
Seems Right
Recommend :
Yes
Comments :
Good tires. A little noisy but the look and performance offset the little bit of noise they create.
Click Tire Sizes
to Compare Prices
Nitto NT420S Tire Specs Chart
Size
Diameter
Width
Rim
Range
Measured
Rim
Tread
Depth
Load
Range
Max
Load
Max
psi
Weight
Revs/Mile

275/60R17
110V SL BSW
29.96"
10.83"
7.5-9.5"
8"
11.2/32"
SL
2337 lbs
44 psi
NA
694
Show Specs


235/55R18
104V XL BSW
28.23"
9.41"
6.5-8.5"
7.5"
10.7/32"
XL
1984 lbs
50 psi
NA
737
Show Specs


255/50R18
106V XL BSW
28"
10.3"
7-9"
8"
11/32"
XL
2094 lbs
50 psi
NA
742
Show Specs


255/55R18
109V XL BSW
28.94"
10.12"
7-9"
8"
11/32"
XL
2271 lbs
50 psi
NA
718
Show Specs


255/50R19
107V XL BSW
29.02"
10.2"
7-9"
8"
10.7/32"
XL
2149 lbs
50 psi
NA
716
Show Specs


255/55R19
111V XL BSW
30.04"
10.2"
7-9"
8"
10.7/32"
XL
2403 lbs
50 psi
NA
692
Show Specs


275/45R19
108V XL BSW
28.78"
10.8"
8.5-10.5"
9"
9.4/32"
XL
2205 lbs
50 psi
NA
722
Show Specs


275/55R19
111V SL BSW
30.98"
11.02"
7.5-9.5"
8.5"
11.2/32"
SL
2403 lbs
44 psi
NA
671
Show Specs


245/45R20
103V XL BSW
28.62"
9.45"
7.5-9"
8"
10.8/32"
XL
1929 lbs
50 psi
NA
726
Show Specs


255/40R20
101V XL BSW
28"
10.08"
8.5-10"
9"
10.3/32"
XL
1819 lbs
50 psi
NA
742
Show Specs


255/45R20
105V XL BSW
29.13"
9.88"
8-9.5"
8.5"
11/32"
XL
2039 lbs
50 psi
NA
713
Show Specs


255/50R20
109V XL BSW
30"
10.16"
7-9"
8"
11/32"
XL
2271 lbs
50 psi
NA
693
Show Specs


265/50R20
111V XL BSW
30.47"
10.91"
7.5-9.5"
8.5"
11.1/32"
XL
2403 lbs
50 psi
NA
682
Show Specs


275/55R20
117H XL BSW
31.97"
11.02"
7.5-9.5"
8.5"
13.2/32"
XL
2833 lbs
50 psi
NA
650
Show Specs


285/40R20
108V XL BSW
28.94"
11.38"
9.5-11"
10"
10.7/32"
XL
2205 lbs
50 psi
NA
718
Show Specs


285/50R20
116H XL BSW
31.3"
11.42"
8-10"
9"
13.4/32"
XL
2756 lbs
50 psi
NA
664
Show Specs


305/50R20
120H XL BSW
32.05"
12.44"
7.5-11"
9.5"
13.6/32"
XL
3086 lbs
50 psi
NA
649
Show Specs


265/35R22
102V XL BSW
29.33"
10.67"
9-10.5"
9.5"
10.5/32"
XL
1874 lbs
50 psi
NA
709
Show Specs


265/40R22
106V XL BSW
30.35"
10.55"
9-10.5"
9.5"
10.5/32"
XL
2094 lbs
50 psi
NA
685
Show Specs


275/40R22
108V XL BSW
30.67"
10.71"
9-11"
9.5"
10.6/32"
XL
2208 lbs
50 psi
NA
678
Show Specs


275/45R22
112H XL BSW
31.73"
10.67"
8.5-10.5"
9"
13.2/32"
XL
2469 lbs
50 psi
NA
655
Show Specs


285/35R22
106W XL BSW
29.8"
11.22"
9.5-11"
10"
10.7/32"
XL
2094 lbs
50 psi
NA
697
Show Specs


285/40R22
110V XL BSW
31.14"
11.38"
9.5-11"
10"
11.1/32"
XL
2337 lbs
50 psi
NA
667
Show Specs


285/45R22
114H XL BSW
32.09"
11.22"
9-10.5"
9.5"
13.4/32"
XL
2601 lbs
50 psi
NA
647
Show Specs


295/30R22
103V XL BSW
29.02"
11.85"
10-11"
10.5"
10.8/32"
XL
1929 lbs
50 psi
NA
716
Show Specs


305/40R22
114H XL BSW
31.57"
12.20"
10-12"
11"
13.6/32"
XL
2601 lbs
50 psi
NA
659
Show Specs


305/45R22
118H XL BSW
32.6"
11.85"
9.5-11.5"
10"
13.6/32"
XL
2910 lbs
50 psi
NA
637
Show Specs


305/40R23
115H XL BSW
32.6"
12.32"
10-12"
11"
13.6/32"
XL
2679 lbs
50 psi
NA
637
Show Specs


285/30R24
103V XL BSW
30.87"
11.2"
9.5-10.5"
9.5"
10.7/32"
XL
1929 lbs
50 psi
NA
673
Show Specs


285/35R24
108V XL BSW
31.89"
11.1"
9.5-11"
10"
10.7/32"
XL
2205 lbs
50 psi
NA
652
Show Specs


295/35R24
110H XL BSW
32.09"
11.65"
10-11.5"
10.5"
13.5/32"
XL
2337 lbs
50 psi
NA
647
Show Specs


305/35R24
112H XL BSW
32.44"
12.09"
10-12"
11"
13.6/32"
XL
2469 lbs
50 psi
NA
640
Show Specs


315/35R24
114H XL BSW
32.68"
12.4"
10.5-12.5"
11"
13.7/32"
XL
2601 lbs
50 psi
NA
636
Show Specs


305/30R26
109H XL BSW
33.2"
12.01"
10.5-11.5"
11"
11/32"
XL
2271 lbs
50 psi
NA
626
Show Specs