65,000 Mile
Tread Warranty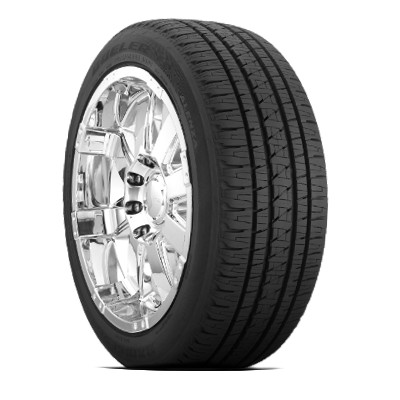 Dueler H/L Alenza
Truck/SUV All Season
The Bridgestone Dueler H/L Alenza is made for light and medium trucks. The Dueler H/L Alenza is an all-season tire that handles well in wet and light snow conditions and is engineered to give a quiet, smooth ride. It also has a 65,000 mile tread life warranty for all sizes.
Tire Reviews [+]
If you would like to submit a review please do so
Here
Tahoe20's Review
Performance :
7/10
Appearance :
7/10
Noise :
9/10
Comfort :
9/10
Price :
Great Deal
Recommend :
Yes
Comments :
Good quiet tire, long life, no complaints.
Click Tire Sizes
to Compare Prices
Bridgestone Dueler H/L Alenza Tire Specs Chart
Size
Diameter
Width
Rim
Range
Measured
Rim
Tread
Depth
Load
Range
Max
Load
Max
psi
Weight
Revs/Mile

P

215/70R16
99T XL BSW
27.9"
8.7"
5.5-7"
6.5"
12/32"
XL
1709 lbs
44 psi
NA
747
Show Specs


P

225/70R16
101T SL BSW
28.3"
8.9"
6-7.5"
6.5"
12/32"
SL
1819 lbs
44 psi
32 lbs
734
Show Specs


P

235/75R16
106T SL BSW
29.7"
9.2"
6-8"
6.5"
12/32"
SL
2094 lbs
44 psi
34 lbs
699
Show Specs


P

245/70R16
106H SL BSW
29.4"
9.7"
6.5-8"
7"
13/32"
SL
2094 lbs
44 psi
38 lbs
709
Show Specs


P

275/70R16
114H SL BSW
31"
10.9"
7-9"
8"
12/32"
SL
2601 lbs
44 psi
42 lbs
671
Show Specs


225/65R17
102H SL BSW
28.4"
8.9"
6-8"
6.5"
12/32"
SL
1874 lbs
44 psi
32 lbs
732
Show Specs


255/75R17
113T SL BSW
32.1"
10"
6.5-8.5"
7"
12/32"
SL
2535 lbs
44 psi
NA
647
Show Specs


275/55R17
109V SL BSW
28.9"
11.1"
7.5-9.5"
8.5"
12/32"
SL
2271 lbs
51 psi
39 lbs
720
Show Specs


P

275/60R17
110H SL BSW
29.9"
10.9"
7.5-9.5"
8"
13/32"
SL
2337 lbs
44 psi
43 lbs
695
Show Specs


P

235/65R18
104T SL BSW
30"
9.5"
6.5-8.5"
7"
12/32"
SL
1984 lbs
44 psi
35 lbs
693
Show Specs


255/45R18
99V XL BSW
27.04"
10"
8-9.5"
8.5"
12/32"
XL
1709 lbs
50 psi
44 lbs
769
Show Specs


275/60R18
113H SL BSW
30.1"
11"
7.5-9.5"
8"
12/32"
SL
2535 lbs
44 psi
41 lbs
691
Show Specs


P

285/60R18
114H SL BSW
31.5"
11.4"
8-10"
8.5"
13/32"
SL
2601 lbs
44 psi
45 lbs
660
Show Specs


P

255/60R19
108H SL BSW
31.1"
10.2"
7-9"
7.5"
13/32"
SL
2205 lbs
44 psi
39 lbs
668
Show Specs


P

255/55R20
107H SL BSW
31.1"
10.4"
7-9"
8"
12/32"
SL
2149 lbs
44 psi
38 lbs
670
Show Specs


275/40R20
106W XL BSW
29"
10.9"
9-11"
9.5"
11/32"
XL
2094 lbs
50 psi
37 lbs
716
Show Specs


P

275/45R20
106V SL BSW
29.8"
10.8"
8.5-10"
9"
13/32"
SL
2094 lbs
51 psi
38 lbs
697
Show Specs


275/55R20
113H SL BSW
31.8"
11.2"
7.5-9.5"
8.5"
12/32"
SL
2534 lbs
44 psi
41 lbs
651
Show Specs


P

275/55R20
111S SL BSW
32"
11"
7.5-9.5"
8.5"
12/32"
SL
2403 lbs
44 psi
43 lbs
650
Show Specs


P

275/55R20
111H SL BSW
32"
11"
7.5-9.5"
8.5"
12/32"
SL
2403 lbs
44 psi
42 lbs
651
Show Specs


P

275/60R20
114H SL BSW
33"
10.9"
7.5-9.5"
8"
12/32"
SL
2601 lbs
44 psi
48 lbs
630
Show Specs


275/45R22
112V XL BSW
31.8"
10.8"
8.5-10.5"
9"
12/32"
XL
2469 lbs
50 psi
43 lbs
653
Show Specs


P

285/45R22
110H SL BSW
32.2"
10.7"
9-11"
9.5"
11/32"
SL
2337 lbs
44 psi
43 lbs
646
Show Specs


305/40R22
114W XL BSW
31.5"
12.4"
10-12"
11"
11/32"
XL
2601 lbs
50 psi
46 lbs
660
Show Specs