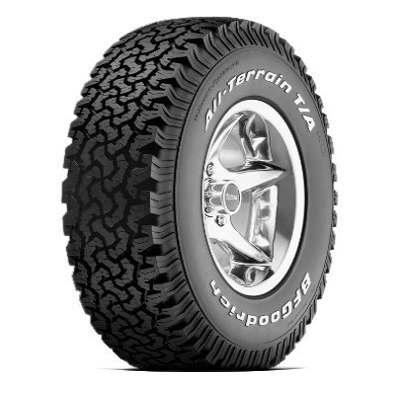 All-Terrain T/A KO
All Terrain
Show More Rides [+]
The BF Goodrich Advantage T/A KO is an all-terrain traction tire. It has wide shoulder grooves that give added control and traction. The three-ply polyester carcass on the Advantage T/A KO provides a stiffer tread area for more accurate steering response and better cornering control.
Tire Reviews [+]
If you would like to submit a review please do so
Here
JoshsRam's Review
Performance :
9/10
Appearance :
10/10
Noise :
10/10
Comfort :
8/10
Price :
Over Priced
Recommend :
Yes
Comments :
Perfect tires for the weekend trips in the woods and perform well in dirt, mud, sand, and asphalt. In Arizona, they dried out quickly and now have tread falling off.
Click Tire Sizes
to Compare Prices
BFGoodrich All-Terrain T/A KO Tire Specs Chart
Size
Diameter
Width
Rim
Range
Measured
Rim
Tread
Depth
Load
Range
Max
Load
Max
psi
Weight
Revs/Mile

LT

195/75R14
99/96R D RWL
25.5"
7.7"
5-6"
5.5"
16/32"
D
1710 lbs
65 psi
31 lbs
815
Show Specs


LT

33X9.5R15
113S C BSW
32.7"
9.5"
6.5-8.5"
7.5"
16/32"
C
2535 lbs
50 psi
42 lbs
635
Show Specs


LT

215/70R16
100/97R C RWL
28"
8.7"
5.5-7"
6.5"
16/32"
C
1765 lbs
50 psi
33 lbs
743
Show Specs


LT

225/70R16
102/99R C RWL
28.5"
8.9"
6-7"
6.5"
16/32"
C
1875 lbs
50 psi
35 lbs
730
Show Specs


LT

235/70R16
104/101S C RWL
29.1"
9.5"
6-7.5"
7"
16/32"
C
1985 lbs
50 psi
38 lbs
715
Show Specs


LT

245/75R16
120/116S E RWL
30.5"
9.8"
6.5-8"
7"
16/32"
E
3042 lbs
80 psi
48 lbs
682
Show Specs


LT

265/70R16
117/114S D RWL
30.7"
10.6"
7-8.5"
8"
16/32"
D
2835 lbs
65 psi
49 lbs
675
Show Specs


LT

305/70R16
124/121R E RWL
33"
12.2"
8-9.5"
9"
16/32"
E
3525 lbs
65 psi
61 lbs
630
Show Specs


LT

33X12.5R16.5
118Q D BSW
32.6"
12.4"
8.5-10.5"
9.75"
17/32"
D
2910 lbs
50 psi
56 lbs
637
Show Specs


LT

35X12.5R16.5
123R D BSW
34.6"
12.6"
8.5-10.5"
9.75"
17/32"
D
3415 lbs
50 psi
62 lbs
601
Show Specs


LT

245/70R17
119/116R E RWL
30.6"
9.8"
6.5-8"
7"
16/32"
E
3000 lbs
80 psi
48 lbs
681
Show Specs


LT

245/75R17
121/118R E RWL
31.6"
9.8"
6.5-7.5"
7"
16/32"
E
3195 lbs
80 psi
53 lbs
658
Show Specs


LT

265/65R17
120/117S E RWL
30.7"
10.7"
7.5-9.5"
8"
15/32"
E
3085 lbs
80 psi
50 lbs
678
Show Specs


LT

265/70R17
121/118R C RWL
31.8"
10.7"
7-8.5"
8"
16/32"
C
2470 lbs
50 psi
47 lbs
654
Show Specs


LT

275/65R17
121/118S E RWL
31.2"
11"
7.5-9.5"
8"
15/32"
E
3195 lbs
80 psi
54 lbs
667
Show Specs


LT

37X12.50R17
124R D RWL
36.3"
12.8"
8.5-11"
10"
17/32"
D
3525 lbs
50 psi
69 lbs
574
Show Specs


LT

325/65R18
127/124R E RWL
34.6"
13"
9-12"
9.5"
16/32"
E
3860 lbs
65 psi
70 lbs
601
Show Specs


LT

37X12.50R20
120S D RWL
36.6"
12.5"
8.5-11"
10"
15/32"
D
3085 lbs
50 psi
NA
568
Show Specs


LT

325/50R22
122S E BSW
35"
13.2"
9-12"
10"
15/32"
E
3305 lbs
65 psi
71 lbs
594
Show Specs


LT

325/60R22
123R D BSW
37.5"
13"
9-12"
9.5"
15/32"
D
3415 lbs
50 psi
75 lbs
554
Show Specs