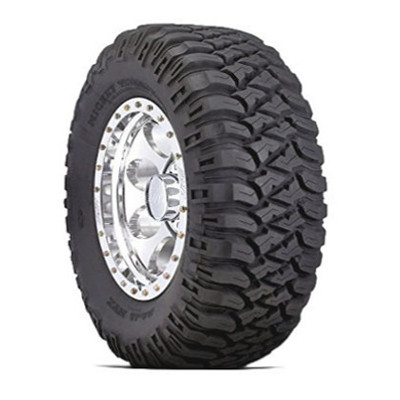 Baja MTZ Radial
Off Road/Mud Terrain
Extreme off-roaders will enjoy the Baja MTZ Radial. This mud tire offers great handling and a nice ride on the highway. It has the Power Ply sidewalls and angled third ply that combine to improve towing, increase performance handling and are puncture resistant. The Baja MTZ Radial is designed for a smooth ride and high mileage. The tire has superior traction for many weather conditions.
Tire Reviews [+]
If you would like to submit a review please do so
Here
Michael's Review
Performance :
9/10
Appearance :
10/10
Noise :
9/10
Comfort :
8/10
Price :
Good Deal
Recommend :
Yes
Comments :
Great tires for off road, but the road eats them up fairly quick!
Click Tire Sizes
to Compare Prices
Mickey Thompson Baja MTZ Radial Tire Specs Chart
Size
Diameter
Width
Rim
Range
Measured
Rim
Tread
Depth
Load
Range
Max
Load
Max
psi
Weight
Revs/Mile

LT

375/65R16
126N D BSW
35.4"
15"
10-13"
11"
23/32"
D
3750 lbs
50 psi
89 lbs
587
Show Specs


LT

395/70R16
121Q C BSW
37.9"
16"
10-12"
12"
23/32"
C
3415 lbs
35 psi
93 lbs
548
Show Specs


LT

285/70R17
121Q E OWL
33"
11.5"
7.5-9"
8.5"
19/32"
E
3195 lbs
80 psi
58 lbs
630
Show Specs


LT

32X10.50R17
121Q E OWL
31.9"
10.5"
7-8.5"
8"
19/32"
E
3195 lbs
80 psi
NA
651
Show Specs


LT

33X12.50R17
114Q D OWL
32.8"
12.5"
8.5-11"
10"
20.5/32"
D
2600 lbs
50 psi
63 lbs
634
Show Specs


LT

305/70R18
126Q E OWL
35.1"
12.4"
8-10"
9"
21/32"
E
3750 lbs
65 psi
71 lbs
592
Show Specs


LT

325/60R18
124Q E BSW
33.2"
13.3"
9-12"
9.5"
20.5/32"
E
3525 lbs
65 psi
75 lbs
626
Show Specs


LT

325/65R18
127Q E BSW
34.8"
13.5"
9-12"
9.5"
20.5/32"
E
3860 lbs
65 psi
78 lbs
597
Show Specs


LT

33X13.50R18
124Q E BSW
33.2"
13.5"
9-12"
9.5"
20.5/32"
E
3525 lbs
65 psi
NA
626
Show Specs


LT

35X12.50R20
121Q E BLK
34.7"
12.4"
8.5-11"
10"
21/32"
E
3195 lbs
65 psi
71 lbs
599
Show Specs


LT

36X15.50R20
124N E BSW
36.4"
15.3"
11-13"
12"
21/32"
E
3525 lbs
65 psi
92 lbs
571
Show Specs


LT

38X15.50R20
124N D BSW
37.9"
15.7"
11-13"
12"
23/32"
D
3525 lbs
50 psi
99 lbs
548
Show Specs