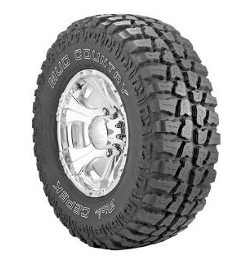 Mud Country
Off Road/Mud Terrain
The Dick Cepek Mud Country is a radial tire designed for use on light trucks and some SUVs. It offers great traction off road and on the street and has a hefty look. The Mud Country comes in large sizes, and has a unique tread pattern that allows for great control and stability.
Tire Reviews [+]
If you would like to submit a review please do so
Here
Samurai's Review
Performance :
7/10
Appearance :
9/10
Noise :
10/10
Comfort :
10/10
Price :
Great Deal
Recommend :
Yes
Comments :
Not much noise at all for a mud tire. Handles good on the road. Off road does great. Does pretty good in mud but does not eject mud as well as I would like. Great tire for those that drive on and off road.
Click Tire Sizes
to Compare Prices
Dick Cepek Mud Country Tire Specs Chart